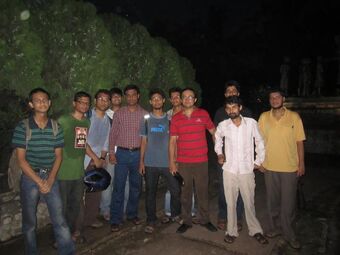 Date : 29th June, 2012
Venue : Nehru Park
Quizmasters : Kapinjal Sharma, Deepjyoti Deka
Eligibility :Open
Winners :
1st : Mit Chowdhury and Sandipan Goswami
2nd : Bhaskar Sharma and Maharnav Hazarika
3rd : Raheef Rasheed Aowal and Debaditya
Following on the heels of the Quiz Fest with No Name, this hub quiz was organised to carry forward the positive trend. With more than 16 participants and over 3 hours of quizzing in trying conditions, it was a memorable day. Mit Chowdhury and Sandipan Goswami totally dominated the quiz, starting from the long 35 question prelims, and following it up in the final rounds by Deepjyoti Deka and Kapinjal Sharma.