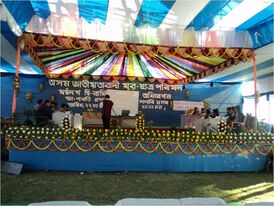 Date : 22-12-2011
Venue : Sonari Playground
Quizmaster : Nabajyoti Bharali, on behalf of Click on Quiz Group
Eligibility : Open
Organiser : Axom Jatiyatabadi Yuva Chatra Parixad
Winners :
1st : Dilip Kr. Sarma and Biswajyoti Saikia
2nd : Deepjyoti Deka and Kapinjal Sharma
3rd : Dhemaji Team
Sonari, with its elaborate tea gardens, has always been an exotic and endearing frontier of quizzing, thanks mainly to the continuous crusade by the Click on Quiz Group and noted quizmaster Nabajyoti Bharali. The 2011 Sonali Quiz was another impressive display, with modern quizzing format being employed, complete with connections and LVCs, which kept the teams as well as the spectators glued to their seats till the end. A prelims was conducted to select the 6 best teams, which was followe by a 9 round final. Although there were some technical problems in the prelims owing to the difficulty of viewing the projector display due to light, the finals went smoothly. The team of Dilip Kr Sarma and Biswajyoti Saikia were clear winners, having scored big on the LVC on Bhupen Hazarika, who were followed by the team of Deepjyoti and Kapinjal. One interesting point about the quiz was a special round on " Jothua Xathor" -- the indigenous riddles, which was enjoyed a lot. Great hospitality was also provided to the outstation teams which came from far and near. Overall, a great day of quizzing.